This sex-fulfilling red agate tree is packed with over 100 pieces of crystal chips and empowered with 8 gold Chien Lung coins. The pot with mystic knot symbols on the front and back is filled with gold ingots, the ruyi and unlimited amount of treasures to signify good fortune, wealth and abundance. The red agate is connected to sexuality and fertility, help in revitalizing our sexual center and root chakras, may increase pregnancy, ease menstruation pain and help in the birth process. It promotes marital fidelity. It is a stone of happiness and hope.The red agate also stimulates analytical capabilities and enhance your inherent talents. On enhancement of health, it helps relieve tiredness and improve blood circulation. Red agate is also very powerful to expel off negative energies and nourishes your good fortune luck. The item would also be a good gift for your family members and close friends.
Note: This tree is made from genuine red agate gemchips. The item comes with a certificate of guarantee to authenticate the natural crystal and originality of make.
These fabulous crystal trees are specially designed to be a class above the standard crystal trees available in the market. Unlike the general ones, these trees are truly built to feng shui principles and claimed to be the best ever made in years. A good wish tree has coins growing from the branches and features a treasure bowl that produces all kinds of precious articles to serve as a broader source of fortune.The pot with mystic knot symbols on the front and back is filled with gold ingots, the ruyi and unlimited amount of treasures to signify wealth and abundance. The design, make, color, finishing and selection of stone quality are of the best grade one could find. If you are looking to pamper yourself and your loved ones, these are the ones you should be going after. Guaranteed more stunning as gifts!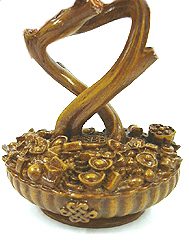 Where to place the gemtree?
Orange and red gemstones are associated to our two important chakras: the root and sexual center chakras. Thus, the red agate tree could emit energy that is potent to nourish these two chakras. It helps to increase sexual desires, libido, fertility and replenish fatigue or improve blood circulation. It provides the courage to proceed in making love, creates emotional balance and reduces depression or bad feelings due to impotency. Indirectly, it creates ones higher self. For married couples, it also helps to increase marital fidelity. It is therefore best to be placed in ones bedroom close to the bed. Some would also place it in their workdesk for all day healing purposes.
If one had visited cities that uses feng shui like Hong Kong (Tai Po Market) and Shanghai (Ee Yuen), one should have seen wishfulling trees where devotees throw written wishes on special red incantation papers with a mandarin orange. These trees are usually filled with wishes hung on all the branches. In fact, wishtrees have been documented during the ancient times as a powerful symbol to harvest ones wishes, be it for relationship, wealth, health, family harmony or passing high court examinations.

A recorded tale mentioned that Shang Ziyie was a fairy from heaven who came down to earth to marry a poor fellow Chooi Wen Lui. She used her magic to create a tree that could shed coins to provide daily needs for the household. This had made the family rich and everyone from the village benefitted from it also. The wishfulfilling tree is known to shed money when shaken. Normally it remarks the "God of Fortune presenting wealth and treasures to devotees who now have endless wealth to come". Later people make the wish trees to be displayed in homes to represent steady source of income, specific wishes fulfilled and long lasting luck. Many ancient texts and chinese art motifs had shown wish trees having coins grew from the branches and featured a treasure bowl that produces all kinds of precious articles.
To increase your sexual interest and performance, place this next to your bed or directly at the headboard so that the red agate energy can help revitalize your sexual energy.
If you desire to bring in a new member to your family (baby), it is best to activate this tree in the following areas of your house:
Place it in the man's personal nien yen direction.
For more family luck, place it in the west location of your living room to signify many descendants luck. This is the universal location in accordance of 8 Life Aspiration Theory. This is to activate harmony in the family, good fortune, prosperity and many great grand children in the future.
Note: All crystal items would be placed in a singing bowl to rejuvanate fresh new energy prior to shipping to ensure potency. Also note that natural crystals from earth may have uneven textures and colors, natural inclusions or original internal lines/cracks in them which may extend to the surface. These are not flaws or damages. They are absolutely fine from a feng shui perspective and would not make natural crystals less perfect compared to manmade items.