Charmingly unique, this heart-warming design captures a mythical sheep with a spiral horn to symbolize a Uni Sheep. The sheep with a horn is a symbol of purity and grace, it is said to have the power to render poisoned water potable and to heal all kinds of sicknesses. Its fat abdomen denotes abundance and prosperity. One side of it has the 5 Fortune Bats circulating the symbol of longevity signifying fortune and longevity. The other side has the Soaring Phoenix signifying fame and recognition. Engraved on the neck is a powerful taoist talisman that can fix 100 types of "shar chi" (poison arrows). Right below its tail are symbols signifying the presence of 5 Elements creating a balance in "chi". It is topped with a lid that has the Early Heaven Bagua with symbol of Tai Chi which can deflect negativities. Filled inside the stomach is genuine citrine and the 4 Dharmakaya Relic Mantras. Citrine symbolizes solid wealth luck. Meanwhile the 4 Dharmakaya Relic Mantras are essential mantras that give power and make the figurine holy. Inspired by the need to activate its true potential and power, a shy energy infused tag is hidden under the ornament.
The Uni Sheep denotes the following positivities:
enhances good fortune, brings prosperity and growth.
brings wisdom, solves all kinds of problems, dissolves hindrances/obstacles allowing upward progression and attainment of great heights with honor.
benefits both patriarch and matriarch of the family as it is the healer of deadly diseases. Brings long life of ease to the family.
enables smooth ride and success to those embarking on new ventures.
prevents mishaps and disasters.
renews your luck for better times ahead.
blesses you with better interpersonal relationship leading to enhanced popularity.
brings abundance and long term happiness.
Note: This item is energy infused comes with a certificate of authenticity.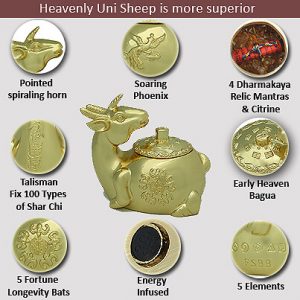 The followings are the recommended areas to display this enhancer:
Display the ornament in your living or family rooms, business premises and offices.

Display the ornament facing your entrance so that you can see it as you enter to invite good fortune into your homes at chi entry points.

Display the ornament in your office and shops to ring in more sales and achieve better success.

If you like to be specific in direction, the sheep's direction is in the southwest.