This wisdom-fulfilling amethyst crystal tree is packed with over 50 pieces of the expensive high grade golden natural pearl and empowered with 8 pieces of gold Chien Lung coins to to help you calm your emotions and enhance your thinking clarity and capability. Extra expensive quality pearl is used to make this tree and they mimic flower blossoming. The pot with mystic knot symbols on the front and back is filled with gold ingots, the ruyi and unlimited amount of treasures to signify good fortune, wealth and abundance. It purifies and transmutes all forms of negativity. It is also said to carry both healing and enhancing properties which provides protection and balance during transition periods. Amethyst gives a spiritual perspective on life's circumstances. A lavender-purple relates to the Heart Chakra, easing a betrayed heart and healing the sense of loss of life and innocence. Amethyst helps you think and act at your highest level. Feng Shui Masters often related Amethyst to fire element and it is said to invoke fame luck in the south.
Note: This tree is made from genuine amethyst gemchips. The item comes with a certificate of guarantee to authenticate the natural crystal and originality of make.
These fabulous crystal trees are specially designed to be a class above the standard crystal trees available in the market. Unlike the general ones, these trees are truly built to feng shui principles and claimed to be the best ever made in years. A good wish tree has coins growing from the branches and features a treasure bowl that produces all kinds of precious articles to serve as a broader source of fortune.The pot with mystic knot symbols on the front and back is filled with gold ingots, the ruyi and unlimited amount of treasures to signify wealth and abundance. The design, make, color, finishing and selection of stone quality are of the best grade one could find. If you are looking to pamper yourself and your loved ones, these are the ones you should be going after. Guaranteed more stunning as gifts!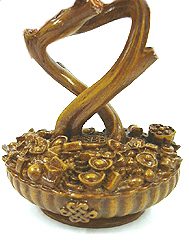 What Amethyst gem tree symbolizes and how to place the object?
Amethyst is recognized to give the magical effects of calming our emotions and enhancing thinking clarity. They have curative energy to enhance us physically and mentally. Thus, our health could also be improved by the Amethyst. The Amethyst Gem Tree is most suitable for those who are experiencing pressure and stress under high pressured environment. The tree would stimulate meditative energies to create harmonization between you and your environment. It is also a potent item to reduce quarrels, anger and emotions. Some claimed that it is the most powerful stone to protect one against third party in a relationship.
If one had visited cities that uses feng shui like Hong Kong (Tai Po Market) and Shanghai (Ee Yuen), one should have seen wishfulling trees where devotees throw written wishes on special red incantation papers with a mandarin orange. These trees are usually filled with wishes hung on all the branches. In fact, wishtrees have been documented during the ancient times as a powerful symbol to harvest ones wishes, be it for relationship, wealth, health, family harmony or passing high court examinations.

A recorded tale mentioned that Shang Ziyie was a fairy from heaven who came down to earth to marry a poor fellow Chooi Wen Lui. She used her magic to create a tree that could shed coins to provide daily needs for the household. This had made the family rich and everyone from the village benefitted from it also. The wishfulfilling tree is known to shed money when shaken. Normally it remarks the "God of Fortune presenting wealth and treasures to devotees who now have endless wealth to come". Later people make the wish trees to be displayed in homes to represent steady source of income, specific wishes fulfilled and long lasting luck. Many ancient texts and chinese art motifs had shown wish trees having coins grew from the branches and featured a treasure bowl that produces all kinds of precious articles.
The Amethyst Gem Tree has many uses:

Place this tree in the West or in rooms where high temperament always occur to stimulate happy chi. This would reduce quarrels and anger occuring in your family.

Place the tree in the Northwest to enhance your mentor luck. This will bring many helpful encounters with important people for business pursuits, career growth, study luck and wealth luck. The earth energy from the gem would produce more metal element in the northwest.

Place this tree in the northeast to improve your innovativeness, especially if you are in a competitive field such as architecture, engineering and communications. It will increase your intelligence and also enhance your literary luck. This is also helpful for those sitting for examinations.

Display in the south to increase fame luck and recognition. Purple amethyst is fire element and it will invoke the power of phoenix in the south to create wonderful fame luck.


Display in the bedroom to ensure your spouse is not taken away by the third party. The amethyst prevents triangular relationship problems.
Crystals offered by Feng Shui Bestbuy is cleaned by the singing bowl prior to customer shipment, to ensure refreshment of good chi when they reach you.