The powerful smoky quartz, it is most ideal for overcoming depression, especially those who often feel discourage by their sickness, illnesses and old age. Smoky quartz has the power to penetrate through many obstacles and psychological blocks. The smoky quartz is also often known to be the "library of information", and it would transmit energy into our minds to provide knowledge of cure for any obstacles. This health and longevity smoky quartz crystal tree is packed with over 50 pieces of the expensive high grade golden natural pearl and empowered with 8 pieces of gold Chien Lung coins. Extra expensive quality pearl is used to make this tree and they mimic flower blossoming. The pot with mystic knot symbols on the front and back is filled with gold ingots, the ruyi and unlimited amount of treasures to signify good fortune, wealth and abundance. 
Note: This tree is made from genuine smoky quartz gemchips. The item comes with a certificate of guarantee to authenticate the natural crystal and originality of make.
These fabulous crystal trees are specially designed to be a class above the standard crystal trees available in the market. Unlike the general ones, these trees are truly built to feng shui principles and claimed to be the best ever made in years. A good wish tree has coins growing from the branches and features a treasure bowl that produces all kinds of precious articles to serve as a broader source of fortune.The pot with mystic knot symbols on the front and back is filled with gold ingots, the ruyi and unlimited amount of treasures to signify wealth and abundance. The design, make, color, finishing and selection of stone quality are of the best grade one could find. If you are looking to pamper yourself and your loved ones, these are the ones you should be going after. Guaranteed more stunning as gifts!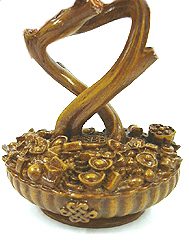 What the Wishfulfilling Tree symbolizes and how to place the object?
If one had visited cities that uses feng shui like Hong Kong (Tai Po Market) and Shanghai (Ee Yuen), one should have seen wishfulling trees where devotees throw written wishes on special red incantation papers with a mandarin orange. These trees are usually filled with wishes hung on all the branches. In fact, wishtrees have been documented during the ancient times as a powerful symbol to harvest ones wishes, be it for relationship, wealth, health, family harmony or passing high court examinations.

A recorded tale mentioned that Shang Ziyie was a fairy from heaven who came down to earth to marry a poor fellow Chooi Wen Lui. She used her magic to create a tree that could shed coins to provide daily needs for the household. This had made the family rich and everyone from the village benefitted from it also. The wishfulfilling tree is known to shed money when shaken. Normally it remarks the "God of Fortune presenting wealth and treasures to devotees who now have endless wealth to come". Later people make the wish trees to be displayed in homes to represent steady source of income, specific wishes fulfilled and long lasting luck. Many ancient texts and chinese art motifs had shown wish trees having coins grew from the branches and featured a treasure bowl that produces all kinds of precious articles.
The Smoky Quartz Gem Tree can be displayed in the following locations:

Smoky quartz is water element. Place it in the north sector (career sector) of living rooms and business premises to bring improvement in career opportunities, for example gaining more sales, increasing in income and gaining promotional luck. It could also channel positive energies to you so that you could experience harmony with your office colleagues and improve your network. Besides it will ensure you will gain a smooth ride and abundant opportunities in your career ride.


Place it in the east to channel healing energies to benefit your whole family. Health is most important of all because without it, there will be no happiness despite having money and good relationship. This is especially so for elderly people. Therefore it is a great gift for the elderly too for it symbolizes good health being fulfilled.
Crystals offered by Feng Shui Bestbuy is cleaned by the singing bowl prior to customer shipment, to ensure refreshment of good chi when they reach you.