The assembly of 5 Element Phoenixes consist of: the Metal (clear), Wood (green), Water (blue), Fire (red) and Earth (yellow) phoenixes. When the 5 phoenixes come together to merge and bond, they will share one powerful vein together to create an unusually high form of power which is essential for rapid magnification of luck associated to human interaction such as: social linkage, popularity, relationship, fame, networking and recognition. Becoming interactively attractive is essential to elevate one to high social status, success in career and happiness in relationship. For those who are suffering from defamation, bad-mouthing and gossips from petty people, the 5 Element Phoenixes will also be tha ultimate answer to suppress and cure such problems. Gossips if left uncontrolled can lead to a kingdom being overthrown, an idol defamed into a publicly disgusting figure, good business being snatched by competitors and obstruction in career advancement.
Highly exquisite in taste, this exclusive set of spheres resemble the manifestation of uncompromising ambition in the ultimate endeavour of aspiration, regal luxury and fame. Made to be tasteful in esthetics, it will definitely spark up your space of a modern looking home. The spheres are embossed in gold and come in glaze colors of red, yellow, white, blue and green to represent the the colors of five elements. They are:
The finest in design
Tasteful in quality
An epitome of sheer perfection
An expression of vision and realization
This ultra powerful combination of 5 element phoenixes bring about wonderful luck of benefactors, noblemen, help from powerful people and important network. Further, you can flexibly rearrange the spheres towards five forms of advantageous adaptation to achieve five types of creative fortunes and aspirations as shown below.
Note: This ornament is energy infused.
What the Phoenix symbolizes?
The phoenix is the goddess of all the winged creatures. This heavenly bird will harvest opportunity luck, magnifies chances of success in all endeavours and prosperity.The Phoenix surprises people by turning bad luck into good luck. It would mysteriously carve out path of opportunities to your business, work, career or all other pursuits of your life. Since it is associated to the south corner, its presence brings you fame and popularity. It would bring out the excellent side of the female. It can even remove quarrelsome energy of a kindling relationship with the fiery energy of the Phoenix. The display of phoenix is perfect for the single female or bachelor looking to find true love.
Where to display the Five Element Phoenixes ?

Display them in the Southwest corner to favour Matriarch luck and to favor love and relationship.

For those in the showbiz, politics or craving for fame and popularity, display them in the south corner of your house. The presence of phoenixes is important to assist a person who desires to be selected or elected for an important event, new role, promotion and important position. Displaying the phoenixes in the south also magnifies wealth and abundance.

For bachelor women and men seeking for love and marriage, place them at your nien yen direction according to your kua number.


Display them at your workdesk to counter office politics. Remember, they are the heavenly version of the rooster and when merging in five elements, their power multiplies by many more times to effectively counter office politics.
Arrangement for Five Creative Fortunes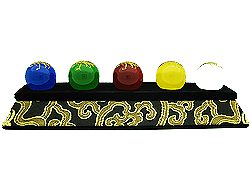 This arrangement is excellent for enhancing descendant's and partriarch's luck. Besides it also increases the bread and butter of the family brought by the patriarch. It can also be used by couples who are hoping to be blessed with a child. It ensures you have successful descendants. It can be used to enhance metal and water sectors such as the west, northwest and north.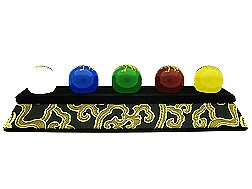 This arrangement ensures solid wealth generation in Period 8. This arrangement will increase your income, speculative investments and wealth luck! Suitable to enhance directions such as southeast, northeast, northwest, southwest and all wealth corners.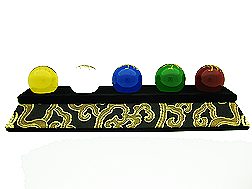 This arrangement ensures quick generation of fame, popularity and enhancement of relationship. It will benefit those who want to stand out in a crowd and aiming to be famous, for example those who are book authors, business writers, showbiz entertainers, politicians and simply workers who desire to be seen for their good work! Excellent energizer at the south.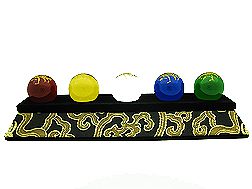 This arrangement creates good reasoning and wisdom. It also has the ability to tranquilize troubled/stressed minds and is associated to starting of a new life and personal development. Display this arrangement at your study desk if you desire outstanding results in your examinations. It can be used to enhance wood and fire sectors such as the east, the southeast and the south.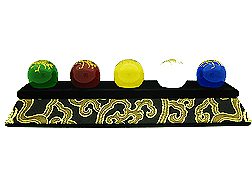 This arrangement guarantees quick generation of new career opportunities, promotion in existing employment or enhancement of health. It symbolizes the realization of all opportunities in career and health. It is associated to career growth in the north and is also great to enhance the wood element in the health sector in the east.
Note: These globes are originated and custom made by Feng Shui Bestbuy