Courageous, magnificent and sensual, we are recreating another legendary emblem that will be admirable to everyone. Returning from mighty voyages of rewarding mission of diplomacy and trade, this ancient wealth ship with two sails will bring flourishing opportunities and treasures when harbor in your home. With the ability to develop new avenues of growth, this wealth ship will create unexpected new opportunities and fresh creative ideas so that you can become more industrious. A departure from the usual pieces, this limited edition Wealth Ship is for discerning practitioners who pays as much attention to dressing up him or herself as to doing up the home sanctuary. It is finest in craftmanship and specially made to be tasteful in esthetics. Bringing you the luck of multiple sources of income, the salient features and the importance of the auspicious symbols can be explained and elaborated as follows:

Lion Head on the sails – admired for strength and courage, the lion denotes high position, great wealth, fame and power. Associated with military strength and hunting prowess and a powerful symbol of enforcement, the lion is also the ultimate guardian of wealth that protects against any financial storm.The lion is the ultimate protector against unexpected financial losses, prevents outflow of wealth, prevents financial difficulties and improve your fortune. It also greatly brings out the glory for the breadwinner, the patriarch of the family or CEO of a company.

Eight Auspicious Objects on the sails – the mystic knot magnifies fortune for Period 8, the conch provides good networking luck, the canopy counter against bad energy, the vase is for abundance, the wheel represents success and improvement, the double fishes represents wealth and money, the lotus for peace and the victory banner symbolizes accumulation of successes.

Four Celestial Guardians on the sides of vessel – namely the green dragon, the white tiger, the black tortoise and the red phoenix, they provide directional protection for the four cardinal directions. Known as the protectors of four directions, they provide a good balance in your surrounding energies so that wealth luck can be drawn to you.

Dragon Head Front – pave way for you to generate a dynastic life. The dragon is the symbol of chinese emperor and the dragon blows cosmic chi (which is the basis of feng shui enhancement) to bring plenty of good fortune and abundance.


Taoist's "Opportunity Magnifying Incantation" inscribed on top of the vessel – invoke divine help to increase business prospects, sales and other sources of income.
All in all, this exclusive wealthship will multiply other sources of income, ignite elective income and make you leap to attain higher achievement.
Note: This item is energy infused and comes with a certificate of authenticity.
The wealth ship is a very popular feng shui enhancer in business premises and homes of chinese tycoons in Hong Kong, Taiwan and Southeast Asia. It is a secret of business success and wealth creation revealed by many wealthy businessmen. From the macro level, tourist attractions and shopping areas such as the Marina Bay Sands in Singapore and the Asiatic in Bangkok are using the symbol of the wealth ship to create great fortune. The wealth ship emblem can bring you extra income luck in the long term, flourishing sales and a leap-frogging career. However, a wealth ship must be properly selected to ensure its potency in feng shui. Motor boats, war ships (with guns and weapons) and holiday cruises should not be mistakenly converted into wealth ships. With regards to the quantities, you can have more than one wealth ship harboring in your wealth corner to signify not just one but multiple sources of income.
The wealth ship will galvanize business/career successes when carefully placed in important areas. It not only creates abundance in wealth, also protects your existing wealth from being loss:

Display this wealth ship sailing into your home from the maindoor (never face the ship out) to bring in wealth and multiply fortune luck into your home at chi entry points.

Display this wealth ship in your living or family rooms, business premises and offices, especially in southeast corner (wealth corner) to activate and enhance your wealth luck.

Display this wealth ship in your office and shop to ring in more sales and achieve more monetary gains and successes.

Display this wealth ship (signify metal element) in the Northwest sector to activate benefactors' luck for more financial generating opportunities.

The wealth ship is recommended for Tycoons and for those doing any kind of business seeking for success. The emblem sends vibes to your minds to remind you of money seeking opportunities.


Display the wealth ship at your sheng chi sector, sailing "from" your sheng chi direction.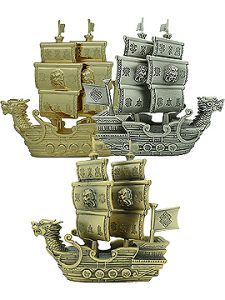 Note: Do not place the wealth ship in toilets and kitchen. This irresistably attractive ornament is not a toy, therefore you must not let your kids mess and play with it like lego. It is fragile! Two pieces of sails and one piece of mini flag can be flexibly inserted into their positions when assembling the ship depending on which direction you like the vessel to sail (either to the right or to the left). Soft sticky rubber will be provided to hold the sails to their positions. But once you have determined the direction of your sails, you can choose to glue them permanently into the vessel on your own.