Burning incense sticks and ingots can invoke positive outcome for our space and remove negativities. The design of this incense pot had been used for centuries in China ever since incense were introduced. It is made from PURE HEAVY BRASS from the best factory owned by Taiwanese and highly polished to reveal its beauty. The pot comes with a stand where it can sit comfortably on it. The face of Dragon Son-3 (Suan Ni) is engraved on the pot for deflection against any yin energy coming near to it. This incense pot is therefore "yang" in nature and not suitable to be used to offer prayers for yin spirits or ancestral altar. This pot can be used to burn incense sticks and incense ingots. The uses are:

To be used by household for space clearing or meditation purposes, can be displayed in living, dining, family and study areas.


To be used to offer incense on altar tables for deities and chinese gods.
FREE: Each pot comes with ground rice husk as fillings for the pot, helpful for those who need to set it up for incense sticks burning.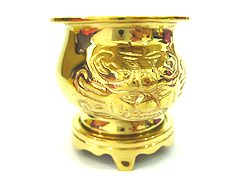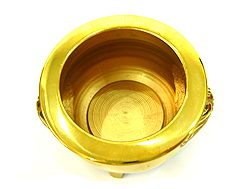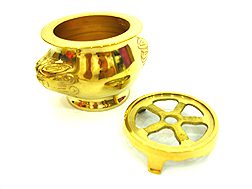 Ground Rice Husk as fillings
Those who like to fill up the pot so that it can hold incense sticks can fill it up with risk husk ground that comes free with the purchase.