This extravagant rose quartz mandarin ducks (one male and another female) are beautifully tied together as a love amulet. This love amulet is suitable for those who are seeking to spark up a new or existing love life. It is beautifully strung with high quality tassel strings onto a red jasper mystic knot. The mystic knot is the most influential symbol of endless love in Period 8. Those wearing or displaying this powerful mystic knot symbol will have the influence of the number 8 multiplied, thus enjoy extra good luck endlessly. Mystic knot is also equivalent to the infinity sign done endless times.Rose quartz is popularly known as a universal love stone, and its fire energy hidden in earth element will help to enhance ones love luck, especially great if displayed in the universal love corner southwest. For the ladies, this amulet could also be carried along with you all the time by tying it outside your handbags. This product can be also be hung in cars and bedrooms to multiply your love and relationship luck throughout the Period 8.
What Mandarin Ducks and Mystic Knot symbolize?
Mandarin ducks have been used for centuries as the most traditional symbol of love in Feng Shui practice. The Mandarin ducks signifies love, romance, devotion, fidelity, affection and partner loyalty. In real life, Mandarin ducks are always seen as loving pairs. The symbols are often used to help singles find love partners in love and eventually marital bliss. Placed nearby their owners, the Mandarin ducks emit strong love chi that makes them more loveable and attractive to enhance their chances of finding partners.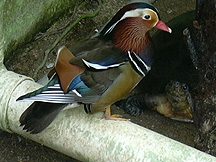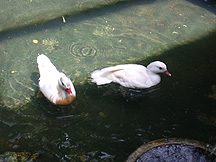 Colorful Mandarin Duck (left) and Pair of White Mandarin Ducks (right) in our pond
Mandarin ducks (an earth element animal) are usually in a pair of male and female. The male has more attractive tail in an upward direction, while the female does not. To generate the devotion in your partners, you may tie the necks of the pair with red string to signify "tying-the-knot" in your successful relationship.
The mystic knot symbol explains that everything goes in a cycle, where there is not start and end point. It is a neverending cycle in Buddhism. The mystic knot is seen as the symbol of good tidings with minimal illnesses, problems, pain, setbacks and any sort of sufferings. It is a knot that implies smooth and easy life. Therefore it is also the magical lucky knot in feng shui. It is also the perfect emblem of "persistant love", thus being identified as the lucky love symbol suitable for ensuring that the romance in a marriage will last. It is also the best symbol of protection in Period 8 against accidents and misfortune. If you are travelling offshore or faraway, the mystic knot will also protect you against accidents and danger, including robberies, burgalary, kidnaps and any other kinds of danger.
The mystic knot also brings the calming effects to subside your anger. Each time you feel your temper rising, visualize by holding the knot quickly and your anger will subside. It is therefore an important item to be carried along in offices, homes and cars. If you are travelling offshore or faraway, the mystic knot will also protect you against accidents and danger, including robberies, burgalary, kidnaps and any other kinds of danger. Visualize and hold the mystic knot everytime you feel frightened and it will lighten the fear.
Rose Quartz is the gem for love and marital bliss. The rose quartz would bring new romance, rekindle broken relationship and culminate better chances of marriage. This powerful love energizer would bring more passion in your relationship besides making you more attractive to the other party, bringing unconditional love, peace and harmony. It will create your love desire, thus enabling you to find your long term partner in life. It also reduces stress related illnesses and mood swings.
To activate your romance luck,
Display the Mandarin ducks in the southwest location of your bedroom, living room, dining, family room, your car and even your workdesk. Southwest is the universal love sector according to Life Aspiration Theory.

Next, you may also want to check out your personal love direction according to your kua number (based on your birthdate) to activate your Nien Yen direction. This is in accordance with 8 Mansions Theory of Feng Shui.