The Fu Dog Head doorknockers are ancient guardians on doors for palaces, mansions and homes of royalty, officials and merchants. Position this cymbal on your door to prevent people of evil intentions from entering the house and to ward off shar chi (killing energy). They are best to guard the main entrance of your home or office and protect the whole family from being harmed. They are crafted from heavy brass which makes it strong enough to terminate any evil or yin energies. It is normally installed as one piece on one sided door or in pairs for two sided doors to protect the entire family from accidents, robbery and any other forms of bad luck.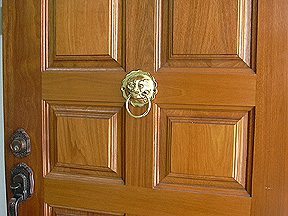 The name Fu Dogs are actually derived chinese "foh" (recited in chinese as Buddha) because these beings are found as stone mounting guardians at Buddhist temples. They are considered sacred in Buddhism, where most deities are depicted sitting on it. It is the emblem of wisdom, power and protection, which could be the reason why they are being embroidered on ancient chinese official robes. These powerful guardians are fun to own like a lovely pair of real dogs at our homes and are easy to tame. This powerful symbol provides potent protection and demon scaring for ancient palaces, banks, mansions, shops, malls, businesses, hotels and jewellery shops. Their faces may look like lions, but take note that they are different from the actual lions.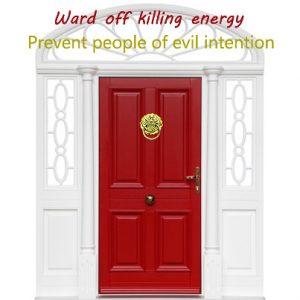 Ancient legend revealed that the Fu Dogs produce milk from their paws and enjoyed sporting with hollow balls. Therefore, ancient people place hollow balls in the jungle in hope of them leaving some milk onto the hollow balls. This is the reason why many chinese artpieces would show two Fu Dogs playing with the hollow balls. And these two Fu Dogs actually have the same significance as the two supreme Dragons playing with the pearl.
The Fu Dogs are popularly known as defender of law and protector of buildings. The Fu Dogs provide ultimate protection, wards of evil spirits and harmful people, nourishes chi that enters homes, bring in happy blessings and dissolves bad chi from neighbourly formations when placed in front of your main door at either sides or raised high up on both sides of your main gate.
We have seen many success stories of business people, high ranked politicians and important people whom have told us how their grand pair of the Fu Dogs brought them remarkable results in their premises (homes or shops or business buildings). They prevent robbery/theft, ward off harmful people, bring in more good fortune/ better sales and improve feng shui of entrances.