Six round crystal balls (resembles the auspicious heaven luck number) is a special feng shui ritual to foster loving relationships, ensures a smooth and easy ride through life for residents and create a harmonious family. These 6 crystal balls become a very powerful energizer of auspicious star for good luck. Every household should have at least one set of these in the living room. You may also activate the auspicious annual star 8. This is said to bring in lots of wealth, good fortune and money to the family.
This set of natural crystal balls carved out of genuine crystals dugged from earth will consist of the followings:

Most feng shui masters would consider the placement of six round crystal balls in the family area as the best way to dissolve tension within the home, especially when placed in the southwest and northwest area. Placed in the southwest, it would benefit the matriach and romance luck, while in the northwest, it benefits the patriach. Having round crystal balls suggest smoothness in relationships. The number six is a very lucky number representing heaven luck. Meanwhile, crystal balls represent the union of the heaven trigram with the earth trigram – Chien with Kun. These combinations are auspicious and wonderful enhancers.
Everytime you feel that the crystals are out of energy, the best way to reactivate them is to shine some lights on them, because fire energy produces earth energy. This signifies nurturing the energy of the mother earth which results in activating the crystal power even more. Remember that southwest is the love corner, which means when crystals are placed there, they bring steady relationships, romance and love. Meanwhile northwest is metal element, and earth creates metal, therefore placing 6 smooth crystal balls in that area will benefit the patriach and also your mentor/networking luck. Good network is the key to success to the riches.
6 crystal balls can be placed in the center of the house. For those who like to amplify your luck, riches, health and create a dynastic business empire of your own, you can add a backward looking chilin together. The chilin is the guardian of the center and in charge of the center among the other four other celestial guardians such as tortoise, dragon, phoenix and tiger. When the center is guarded with the chilin, you will enjoy all rounded protection and good fortune.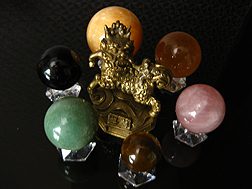 Note: The Crystals offered by Feng Shui Bestbuy is cleansed by the singing bowl prior to customer shipment, to ensure refreshment of good chi when they reach you. Also note that natural crystals from earth may have uneven textures and colors, natural inclusions or original internal lines/cracks in them which may extend to the surface. These are not flaws or damages. They are absolutely fine from a feng shui perspective and would not make natural crystals less perfect compared to manmade items.