The peacock is admired for its elegance, beauty and dignity and communicates rank and wealth, even more so if it is spreading its tail which indicates more magnificence is yet to come. Generally denoting "rank", power and royalty, its accompanying benefits include wealth, beauty, admiration, protection and romance. Peacock is another manifestation of the heavenly Phoenix on earth. Since period 9 is the age of the phoenix, the peacock therefore becomes important in the period. It has a thousand eyes on its tail which will activate fame luck, promote public admiration and bring positive motives from other people. The thousand eyes can also protect you from disasters and dangers. Besides, the eyes will also help to protect you against betrayal in love relationships. The peacock thrives on all kinds of poisonous creatures to enhance its feathers. thus is believed to be efficacious in all cases of dangers as well as for relieving poisonous harms. On the other hand, the double carp (one of the 8 Auspicious Objects) ornamented around its neck signifies harmony and peace of mind. This peacock raising its resplendent tail filled with its eye-catching peacock eyes pots will conjure up an aura of protection, deflecting any negative energies that may be aimed its way. It brings fame luck to the household, activates success and prevents individuals with individuals succumbing to terminal stage. Its secret compartment is filled with a rolling of Wish Fulfilling Mantra. The peacock comes with a Tai Chi Double Lotus Plate.
Note: This item is energy infused and comes with a certificate of authenticity.
Tai Chi Double Lotus Plate
A catalyst for activation, the plate boosts the energy of any feng shui artifact placed on top of it. It enables the artifact to interact well and form a balance with its surrounding. According to the theory of "Yin Yang", the manifestation of Tai Chi generates "balance". When balance is attained, negativities diminish to give way to positivities! The lotuses on the other hand is essentially used to signify joy, harmony, peace, purity and sincerity. The plate is consecrated with the mantra of Amitayus. Having great control over the cosmic world, this mantra increases one's lifespan, acquires good fortune and wisdom, avoids untimely or accidental death, removes all negative karma, and accomplishes non-death or is reborn the Western Pure Land of Ultimate Bliss. The plate is also empowered with two taoist magic incantations, one to fix 100 types of poison arrows (protection against all negativity) and the other is to enable wishes to be materialized.
What the Peacock symbolizes?
A picture of peacock was used as the official badge insignia of third and fourth rank civil servants during the early Ming (1391-1527) amd third rank civil servants thereafter. The peacock was also the emblem of the Hindu God of War, Kartikeya. By the beginning of the nineteenth century, peacock plumes became so ubiquitous through their availability that their significance was greatly reduced, but if you spot an official in a painting wearing a hat with peacock plumes bearing several eyes, you know you are viewing a personage of significant rank.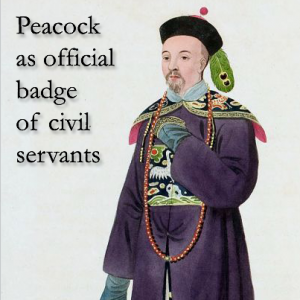 Where to display the Peacock?
Display it in prominent areas of your home, important rooms or office facing towards negative energies aiming at its way.

Display it on your desk to ensure your work is always recognized by your boss and your goals are always met. They will also help you create a significant differentiation between you and your peers in the hearts of management.

For those who are facing the public, you may gain fame by placing it in the south sector of your living room or family area.

For those seeking for love, they can quicken the process by firing up the southwest with the Peacock's fire element.