With a special sensitivity for Thai and Sterling Silvers, with the utmost eye for detail and a total flair for design and fashion trends, this lucky charm bracelet provides a refreshing alternative for your silver and crystal jewellery collection. The exquisite design competence and finish quality will fulfil the highest demands in terms of aesthetics and quality. A sensual designer piece, this oriental setting blends specially selected pieces of Thai Silver and Sterling Silver auspicious motifs with the much adored crystals. It features primarily the Double Happiness, a very powerful symbol of conjugal bliss and happiness in marriage. It connotes double blessings from heaven. It is not limited by it and has many other meanings as well. Other meanings that the symbol carry include "meeting an old friend in a faraway place", "sweet rain after a long drought", "being successful candidate of imperial examination list", "the wedding night", "living to a ripe age of 100th birthday" etc. Comes together in two pieces, this bracelet is free-size and can be easily worn by almost all hand sizes (but best for 7.5inch perimeter as standard) because of its long lasting "expandable-retractable korean string".
Note: Guaranteed limited edition. This item is very limited in quantity because the silver pieces are handmade and not mass produced. All metal pieces on this bracelet are ALL made from solid silver. Bracelet comes with pillow and certificate of authenticity for the silver.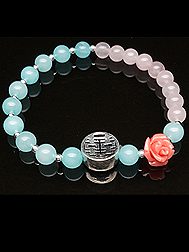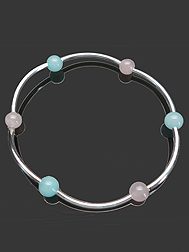 Double Happiness
The presence of the double happiness symbol is a very powerful symbol of conjugal bliss and happiness in marriage and family life. It connotes double blessings from heaven. In Taoist feng shui, the reasoning is that the "doubling excellence" concept would double the effect of luck, such as doubling the magnitude of wealth, happiness and success. No matter where you place it, happiness chi is most efficiently created by the word itself doubled. This sign is carved on marital beds, chairs and other bedroom furniture. It is also printed onto silks on brides gown on the marriage day. In the Forbidden City of Beijing, the double happiness symbol is carved repeatedly in the emperor's bedroom, pierced lattice screens, painted red lanterns and ceilings to create a harmonious flow of happy energy through out the palace. The double happiness symbol is a MUST for any newly weds in the bedroom.